Click here and sign up for our Elder Care Tips monthly newsletter and receive 10 free recipes!
Click on the banner below for more info on the products or if you would like to place an order.
VitaMist Spray Vitamins and How Oral Absorption Works

According to the Physicians' Desk Reference For Nonprescription Drugs and Dietary Supplements™, oral absorption (spraying into the mouth and swallowing) is much more efficient than other forms of delivery, with the nutrients being rapidly absorbed by the lining of the mouth, called the buccal mucosa. When sprayed into the mouth, micro-sized beads or droplets are sprayed onto the tissue surface of the lining in the mouth and swallowed. This process allows the nutrients to work within seconds without causing any extra stress to the organs. Spray vitamins bypass the solubility and absorption problems accompanied by traditional nutritional supplements. The process of oral absorption is actually simple: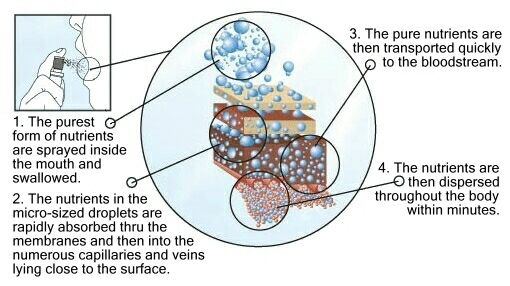 Advantages of Spray Vitamins
Sprays are extremely effective and rapidly absorbed by the body
Sprays are easily administered
Sprays do not contain fillers or binders
Sprays can be taken anywhere and used without water
Sprays eliminate the need to swallow a pill and are great for people who have had a stroke or who have swallowing problems
People over the age of 35 are more likely to have absorption problems. As we age digestive problems tend to increase, while at the same time, proper absorption becomes even more important.